Should Rankings be a Basis of SEO Success?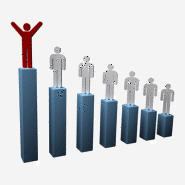 One of the most common questions that companies and website owners ask is whether they should be worried about rankings when measuring the efficiency of their search optimization efforts.
If you ask the experts, they would say that you should not base the success of your labors on the ranking of your website.
Here are the reasons why your SEO success is not based entirely on rankings:
There is constant fluctuation of rankings. If you check the rank of your website right now and you check the results again after a few hours, there will be fluctuations in the results and your ranking may not be the same. This constant changing of rankings should already be an indication that it isn't a measure of how successful your website is.
Rankings can be affected by geo-targeting. A lot of search engines already use geo- targeting wherein the results of the search will be based on the IP address or location of the searcher. This will give more personalized results and results that are within reach. Since geo-targeting is used in rankings, it will be difficult to gauge the success of your search optimization techniques if there are more searches done in a specific area of the country.
Rankings do not necessarily equate to the target traffic visiting your site. The webpage rankings that are released would only show the volume of visits or hits that your page gets through your efforts of optimization. Unfortunately, it does not show if those hits belong to your target traffic or not. This is a clear indication that rankings do not matter in measuring website success. The most important thing when creating a website and optimizing it for search engine marketing is to make your page visible to your target audience. Your target audiences are your customers or people who may be interested in your product. These rankings measure all of your page's hits including those wanderers or useless clicks to your page.
The sales of your webpage will not be reflected on rankings. Whether you have a low ranking today and a high ranking 2 days ago, the ultimate basis of your search optimization success comes down to the sales that your webpage has made over the duration when the optimization was applied. Again, rankings count everything including untargeted traffic. Even if you receive low hits today compared to other days of the week, you might be able to get all of those visitors to purchase from you.