Marketing techniques and strategy can determine the success or failure of a local dermatology clinic. SEO for dermatologists has become a significant choice for private dermatologist practices in North America as they compete for important rankings on page one of Google. The aging population and the increased awareness of skin cancer and other ailments have gradually amplified the number of people needing dermatology treatments. What does this mean for the market? It means a growing number of medical practices offering their services, which has led to greater competitiveness in the field. Dermatology specialists need to stand out if they want to succeed, and one of the ways they can do this is with the help of technology.
Whether we're talking about the use of telemedicine, online medical records, or the latest innovations in the field of cosmetic dermatology, medical practices have begun in recent years to make increasing use of technological resources, and this is best seen in the growing number of collaborations with companies specializing in creating SEO optimized content. Why SEO? Because it's the best way to promote online services in a natural and streamlined way that leads to organic and predictable visitor growth. A proper online presence could help a dermatology clinic establish credibility and provide a competitive advantage that attracts new patients.
What Does SEO for Dermatologists Mean? 
This term refers to the practices by which a professional SEO company can optimize the online presence of a dermatology clinic through a variety of techniques such as keyword research, link-building, or on-page/off-page optimization, all with the ultimate goal of improving the client's score in the search engine result pages, and increasing the visibility of their site to potential new clients.  The process will need to include thorough research of the client's local market, an investigation of competitors in the field, and the creation of a profile of potential customers who represent the ideal target for the SEO campaign.
What Are the Advantages of SEO for Dermatology Businesses? 
Increased Sales
SEO can be crucial to increasing the online visibility of a dermatology clinic, making the discoverability of dermatologists' services more likely for new clients. An SEO specialist can help you, through detailed keyword research, determine the main patient expectations of your local online space, and form a long-term business plan that leads to the creation of quality content that considers your client's requirements.
Increased Web Traffic
The goal of any SEO specialist is for your website traffic to grow sustainably. A high number of people visiting your website will translate into more appointments and increased revenue. Heightened traffic in the SERPs can help you rank higher in the local SEO results, giving you an edge over the competition. In contrast, keyword research can help you understand the dermatological trends in your local area. This, combined with optimizing your Google local pack profile, can help you become the top choice for people interested in nearby private dermatology practices.

Heightened Credibility
Increased credibility can help you stand out as a professional dermatology clinic that offers high-class services to its patients. Improving your website and using SEO-optimized content will increase the reputation and ranking of your dermatology clinic in the SERPs, which will translate into more people interacting with the medical services you offer. Optimizing your local business can help you get backlinks from various sites relevant to your field, which can be helpful if you want to become a reference for private dermatology practices.
Competitive Advantage
The increasing number of dermatology practices competing for local relevance leads to innovation and competitiveness between clinics. For clients, this means more options if they need to go to a dermatology clinic, but for a practitioner, it means implementing different techniques that give them a viable advantage. Search engine optimization can be the most viable solution for medical practices to take the lead over the competition and appear first in search engine results when patients need urgent medical or cosmetic care.
Cost-Effectiveness
Calling on a firm that specializes in optimizing your online presence can be one of the most cost-effective ways to improve your visibility in your local business landscape. Why? Because SEO, as opposed to PPC, leads to organic results that will persist and adapt according to market needs and expectations. The increase in visibility and reputation of your Google business profile following the implementation of optimized content will be gradual and constant, leading to a substantial improvement in the interactivity of visitors with the products or services you offer.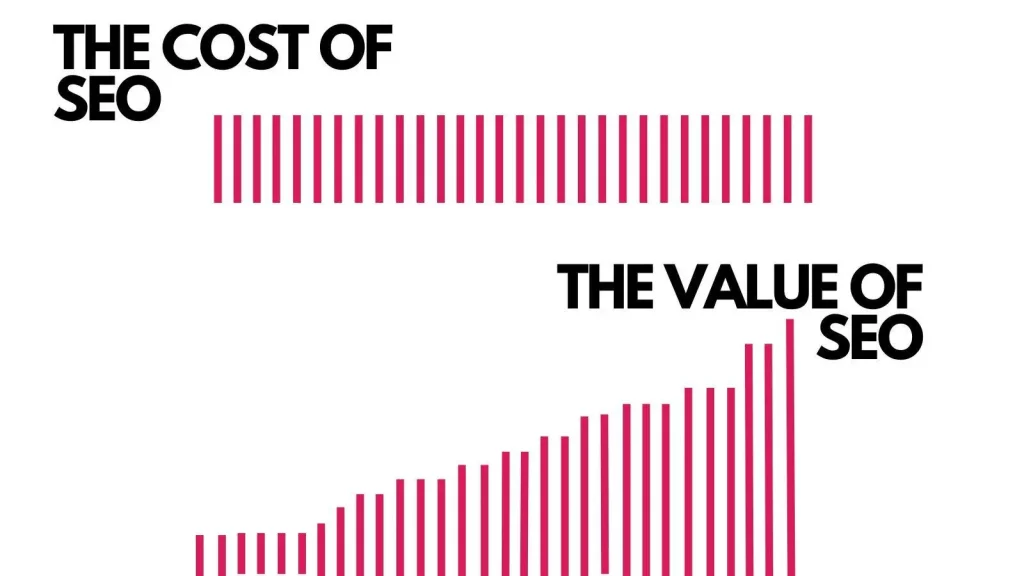 The Importance of Local SEO for Dermatology Clinics
For a dermatology clinic, success or failure can depend on attracting new patients that lead to sustainable business growth. And one of the most effective ways this can be implemented is by using an experienced SEO company to optimize your website processes for increased visibility in the SERPs. What is Local SEO? It refers to the set of techniques and methods by which your website can gain an edge in the SERPs over competitors in your nearby area. But what are the elements we should focus on when implementing a local SEO strategy?
Focusing on Your Local Community
Increasing your visibility in the Google local pack results will directly impact how you can make yourself relevant to the community in your nearby area. By implementing optimized content for your local community, you can increase your visibility in the SERPs and attract new patients needing professional care. And what this content should look like will depend on your keyword research. Does your business operate in an upscale neighborhood where most of the population is young, follows a skincare routine, and has an above-average income? In this case, the good idea is to promote your cosmetic services. Is the local population older? Then they are most likely interested in quality medical offerings, and you should encourage your services accordingly.
Verify Your Local Listings and Improve Your Google Business Profile
An SEO specialist can help you create and check your local listing in directories like Google Business Profile. This can help you improve your local pack presence in the sector you are interested in. The google business reviews that you can receive with your listing in local directories can help you create a following of positive local business citations that have the potential to propel your dermatology clinic to new heights of success. Everyone needs to turn to a specialized clinic for their skin problems at some point, and the presence of such a dermatology office in the local area is an asset that most people would greatly appreciate.
Inspect Your SEO NAP and Local Pack Ranking
NAP stands for Name, Address, and Phone number, and a consistent NAP in all the directories your business is present is crucial to getting potential customers to use your services. It would seem unprofessional, for example, if you were listed with a phone number in Google local pack, while the business reviews of your dermatology practice state that the phone number is no longer available. 
Optimizing your website for Local SEO will increase visibility in the local pack ranking viewable in Google Maps, automatically increasing the number of daily interactions with your practice and enhancing the visibility of your Google business profile. Increased daily interactions will lead to a heightened number of local business citations in various directories, which can be crucial for solidifying your reputation in the region.
6 Tips for a Successful Dermatology SEO Strategy 
Identify the Keywords Relevant to Your Field of Activity
The first step in optimizing your website is identifying keywords relevant to Dermatology SEO. What are keywords? They are phrases or ideas that define trends in your industry. By using professional programs such as SEMrush or Ahrefs, you can compare the keywords used by people interested in medical services in your local area and match this data with the information collected from your website. If your site's content does not correlate with the analytics data from search engines, this can be a starting point for future optimization actions.

Optimize Your Website
Once keywords related to your field of activity have been identified, the project can move on to the local SEO optimization stage, which is necessary to improve the competitiveness of your website. What does the local SEO process consist of? First, it will involve performing an audit to identify all the aspects that need improvement on your website, both technical and content-wise. 
After that, if necessary, you must create quality content that takes advantage of the keywords found earlier, improve the internal structure of the available links, optimize URLs, headers, and title tags, check for duplicate content in search engine indexes, and optimize backlinks to other sites relevant to your specialty area.
Monitor Your Competition and Their Inbound Links
To improve your local SEO profile, you need to understand how your competitors use search engine algorithms. In this regard, a good idea might be to analyze the keywords used by them and identify their access to different backlinks. Does the competition receive inbound links from publications interested in professional dermatology articles? Then you could contact them and present some of your quality content. You could get a free promotion, which is crucial for improving your ranking in the search engine results pages.
Use Social Media
Social platforms have become, an effective tool to promote the services offered by businesses and to connect them with potential customers. Social media management will ensure you maintain a professional presence on sites such as Twitter, Instagram or Facebook. Social media is where you can maintain a constant line of communication with people interested in your services and have an easy and quick way to announce any service or program changes relevant to your business. In addition, similar to Google business reviews, positive comments and good ratings can help you improve your online presence and get your services or products in front of more people.
Use Google Analytics
Do you suspect most people who visit your site are interested in cosmetic services and methods to improve their skincare routine? You can find this out by inspecting the data available in Google Analytics. Monitoring the progress of your local SEO strategy through Google Analytics is a vital step in measuring the success of your plan. It is the surest way to gauge the performance of your website compared to rivals and determine the conversion rates for the services you offer.
Communicate with Email Marketing
Email Marketing is an incredibly powerful tool for your skin care clinic to communicate with clients. One of the biggest advantages is its cost-effectiveness; compared to traditional methods such as print or television ads, email marketing can be done at a fraction of the cost. Furthermore, it allows clinics to personalize their messages and target specific segments of their customer base in order to maximize engagement. These campaigns whether clinical or medical focused can be easily tracked and analyzed so that businesses are able measure effectiveness and make adjustments accordingly.

Dermatologist SEO with InView Marketing? 
The online landscape in the field of dermatology is constantly evolving, and staying relevant amidst the competition can take time and effort. To rise above the fray, it is essential to seek the assistance of professional firms with a wealth of experience in search engine optimization, and our company, InView Marketing, offers SEO for Dermatologists. 
We have over fifteen years of experience in the industry and employ a team of highly-skilled professionals with the knowledge and training to tackle Dermatology SEO head-on. We understand the skin care industry and have produced outstanding results in competitive markets. Our team is dedicated to providing personalized and intricate solutions to our clients and is always available to answer any questions or even sit in on your team strategy meetings.
InView, can be the ideal partner you need to take your business to new heights. We recognize our client's unique needs and aspirations, and our team's goal is to understand how to raise your clinic above the competition. We employ a data-driven approach to develop and implement SEO strategies tailored to your business, ensuring your online presence is fully optimized for more appointments and or online sales if you run an ecommerce store.
In addition to exceptional services, we pride ourselves on our top-notch communication skills. We keep our clients informed every step of the way and are always transparent with our reporting. Our ultimate goal is to see our clients succeed, and our biggest motivation is the positive feedback we receive from satisfied dermatologists. Our agency has the experience, expertise, and dedication to take your business forward and up in revenue. Contact us today to schedule a consultation and begin a professional collaboration that will help you achieve your clinic's goals.